FROM PASTURE TO PLATE

The Hereford Friesian cross is a diverse and sought after animal. Natalie Campbell explores the options from pasture to plate.

THE PROCUREMENT AGENT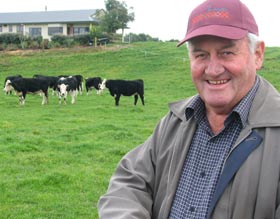 Livestock buyer Dave Whelan says identifying
the right cattle for the Hereford Prime branded
beef programme is like selecting fruit
– you don't want them over or under done.
Independent livestock buyer and agent Dave Whelan has more than 50 years experience which makes him well qualified when it comes to identifying the best animals for a branded beef programme.
Dave who operates out of the Waikato region has been linking finishers and cattle for the Hereford Prime progamme since it's inception in the early 1990s. Magills Meats in Te Awamutu is the North Island Hereford Prime distributor and Dave has been working with them since the 1970s.
Dave largely sources his finishing stock from a loyal base of farmers and sometimes the Frankton saleyards depending on supply and demand. He does also work with a couple of other agents who help source high quality Hereford and Hereford cross animals for the NZ Hereford Prime programme.
Dave has been a stock buyer his entire career and has developed an intuition for what makes a good carcase. It's a skill he has refined and developed and isn't something that is easily described. When asked he says it's all in the eye appraisal – his most valued tool.
His primary target is cattle with potential. "You can work it out if they will suit the finishing business," he says.
When selecting stock for clients Dave said he targets animals that will grow and provide a decent return to the finisher, animals to suit the property and the finishers' circumstances. A large proportion of his clients prefer yearlings or 15 month old cattle for a quicker turnaround. He is constantly in contact with his clients discussing feed levels, stock condition and purchasing numbers.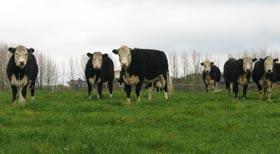 Quiet tempered animals do better for finishing
and the Hereford is renown for its docility.



He believes "a quiet animal will do better in the main" and are suited to today's small block holders as well as bigger properties. This makes the Hereford, renown for it's quiet temperament an ideal breed for finishing.
He says the best finishers are those that feed their cattle well. He says not overstocking the finishers is another aspect to keep in mind – if anything he prefers to maintain a slightly lower stocking rate than necessary as he feels this enhances stock performance.
Eye appraisal again comes to the fore when it's time to get the cattle away to the processor. For the Hereford Prime programme it is particularly important to submit the animals before becoming too fat.
"You don't want them underdone or overdone, it's like picking fruit," says Dave. But he acknowledges there has to be a certain amount of condition to get the quality right.
Heifers and steers are selected by Dave, although heifers are preferred as they arrive at a killable weight quicker than steers. Despite the fact steers take a bit longer to grow out their carcases grow to heavier weights. For example, he said heifers will kill out between 240-260kg CW and steers can grow to more than 300kg CW but would then be more suited to the export trade.
The ideal Hereford Prime carcase weight is 220-270kg with a P grade (fat coverage 3mm to 10mm). The pH levels, fat colour, meat colour and marbling are also taken into consideration for the branded beef programme. Dave feels the specifications promote the quality aspect of the Hereford Prime programme which is what makes it successful.
He says the Hereford Friesian cross is filling a large gap in the beef industry and the reality is, there are not enough pure-bred Herefords in the Waikato region to meet the demand.
When the carcase specifications for Hereford Prime were established, the NZ Hereford Assocation undertook extensive research and trials to compare Hereford versus Hereford Friesian cross carases and found the first cross didn't detract from the taste, tenderness or dining experience. Dave backed this up with recent kill sheets showing a mob of Hereford Friesian carcases that had been graded A for eye muscle.

THE FINISHER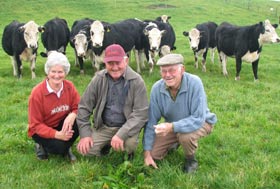 Dave Whelan and with Horotu beef
finishers Marie and Dick Draper
.
Dick and Marie Draper are beef finishers at Horotu and clients of Dave Whelan's. They have been finishing beef for 20 years and it was Dave who introduced them to supplying the Hereford Prime programme.
The Drapers, trading as Clairhill, have been exposed to many beef breeds over the years and like the Hereford influenced cattle the best because they are quiet and exhibit good growth rates.
They finish largely older cattle with Dave tending to match them to stock aged about 15 months old – targeting animals that won't take the Drapers long to finish. The couple turnover about 100 head annually on their 43ha property.
Dick says the margins for finishing for the Hereford Prime programme work well and he said the key is to buy and sell on the same schedule where possible - preventing losses. Cartage is also covered in the Hereford Prime programme.
The Drapers prefer to finish heifers because they grow out quickly and he and wife Marie prefer the white faced cattle because it allows easy identification and they are quiet animals to handle.

THE RESTAURANT

Hereford Prime beef has to meet strict conditions to be eligible for the programme, but they are specifications that are paying off for the product and the restaurants which serve it.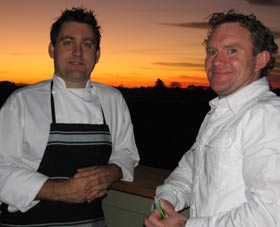 Matt Cooper, left and Calum Jamieson
established The Woodbox Winery Restaurant
and Bar overlooking the Waikato River and
surrounding farmland. Sunsets are a spectacular
feature of evening dining at the restaurant.





One of those restaurants is The Woodbox Winery Restaurant and Bar, at Mystery Creek near Hamilton.
Owned by Matt and Lisa Cooper and Calum and Charlotte Jamieson, The Woodbox has been open just 18 months and has featured on the Cuisine Restaurant of the Year list twice. The first year they were included in the top 100 restaurants and this year they are a finalist and appear on the list of the top 40 restaurants.
Hereford Prime features on The Woodbox menu which chief Matt describes as continually evolving. The menu changes seasonally but they also have their regular diners to keep happy too. He said each final menu item has been fully scrutinised before it is placed on the menu.
"All our dishes are there for a reason."
He said the Hereford Prime eye fillet is the only item that has been on the menu since they opened. Matt said the condiments and accompaniments served with the eye fillet have varied but the beef cut remains the same. He also said it is one of their most requested dishes.
Matt said from a chef's perspective Hereford Prime is very consistent.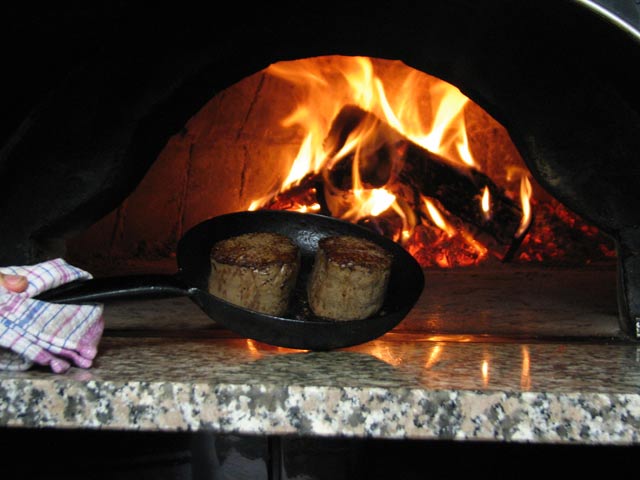 The seared Hereford Prime eye fillet as it enters the wood fired oven at The Woodbox.




[ Return to main page ]